Hunting with New Zealand Custom Outfitters
We proudly offer to the discerning hunter an incredible array of trophy species and hunts over an extensive area of New Zealand. Imagine hunting for Red Stag in the beautiful Southern Alps and grabbing a Himalayan Tahr (The KING of the Southern Alps) along the way.
Our guiding team offers both local and international experience in all aspects of your hunt.
We specialize in Multi-Species hunts.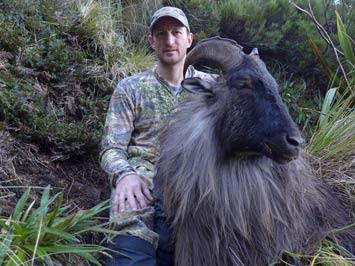 Red Stag Hunting:
Red deer are the most common of the deer species found in New Zealand. Trophy red stags generally range from 300 to 450 SCI and generally weigh between 400 and 700 lbs. (180 - 320 kg) In good years these monsters can score more than 700 SCI. Superior genetics and game management practices are making New Zealand the best place in the world to take a record red stag. Stags are in hard antler from March to August and can be hunted any time through this period. Suitable calibers are .270 to .300 magnums.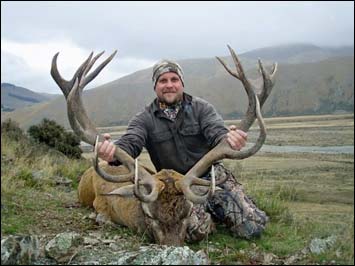 Davy Garber's 345SCI Free-range Red Stag
Free-range Red Stag Hunting:
We proudly offer guided hunts on large tracts of private land of more than half a million acres. This land consists of open grass country, native bush and exotic pine plantations. It's highly fertile with rich limestone soils, lush high protein feed with strong mineral content and a fantastic, drought-free antler growing environment. There are many free range red stags here with excellent trophy present.
The Red stag population in this area has developed over the last 20 years from the best genetics of any free range red deer in New Zealand and is now widely acknowledged for producing the top free range red Stags, some in excess of 300 SCI.

South Island Red Stag Hunts:
We have access to several ranches and estates of more than half a million acres in the Canterbury and Otago high-country. The World's largest red stags are found here. (500+ SCI) This is a cooler, dryer sundrenched climate. Combined with the high calcium limestone soils and perfect environment for incredible antler growth on the resident red stags. Free range Red Stags are on ranches up to 100,000 acres with stags available in the 200-300 SCI range.
The terrain here is rolling to steep hills, mostly open with bush patches in ravines. These eastern ranges back on the majestic, snow-peaked southern Alps. Access is by 4WD, quad, or helicopter and requires a good level of fitness.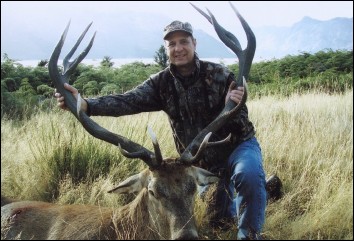 Rich Pendalton with 310 SCI Red Stag in Otago.
New Zealand Elk (Wapiti):
We proudly offer hunts on private game estates. Superb game management and superior genetics produce world class trophy elk. New Zealand is home to the best elk hunting areas in the South Pacific.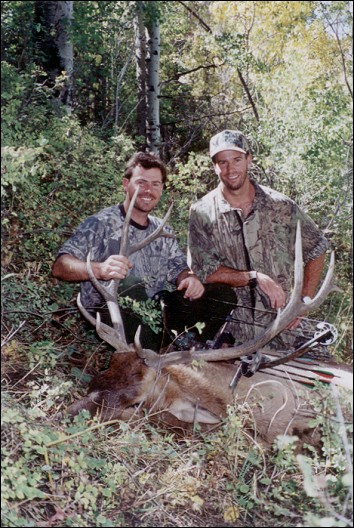 Outfitter/head guide with bow hunter John Arnold and his 6x6 Bull Elk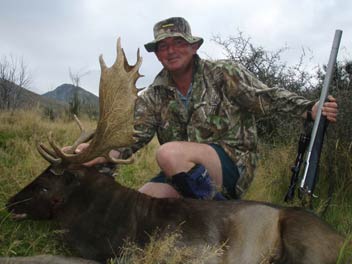 Dan Odlum with his free-range Fallow buck.
High Country / Southern Alps Hunts
Himalayan Bull Tahr:
The Southern Alps are home to the these amazingly agile mountain animals. These are the Kings of the Southern Alps and can be found in the Canterbury High Country. They boast an impressive mane and make beautiful trophies. This is New Zealand's premier mountain animal and this is the only place in the world where tahr can be hunted. Winter months (March to September) provide the best ruff or manes. Bulls can weigh up to 300lbs (160kg) with horns generally 11-14 inches with 8-10 inch bases; requiring the same caliber rifle as for taking red deer. (.270 to .300 magnum).

On a day's hunt you may see more than 100 tahr with many trophy bulls. We have access to private ranches in the Southern Alps with moderate to steep terrain. These are challenging hunts and require a good level of fitness. Access is by 4x4 or helicopter.
European Chamois:
Chamois are very graceful mountain animals. They can be hunted year round and we often encounter chamois while hunting tahr. As with tahr hunts, chamois hunts are quite physically demanding, but the mountain top views are worth it. Access is by 4xD or helicopter.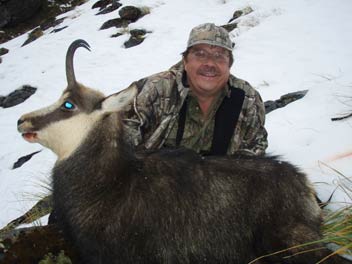 Terry van Maanen with Chamois
Putting it All Together
Because we specialize in Multi-Species hunts, we can coordinate and make the most of your time in New Zealand. We can combine both hunting and fishing options if that is your preference. See our Packages for more information or contact us and we'll create a custom tailored adventure for you.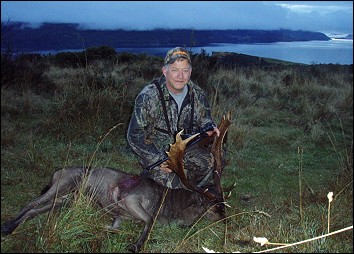 Mike Symonds with 200 SCI Fallow buck in Otago.
New Zealand Custom Outfitters Limited
923 Sheppards Bush Road
RD8 Ashburton 7778
New Zealand

Telephone: +64 27 684-4759
Email: info@huntfishadventures.co.nz

We provide fair chase hunts for bulls on private land on both the North and South islands. These exceptional Wapiti Bulls are in the 300 to 400+ SCI range and suitable for both bow and rifle hunting.
We specialize in organizing custom hunting and fishing adventures throughout New Zealand.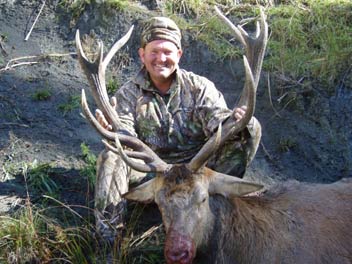 Dan Odlum with his 290SCI free-range Red Stag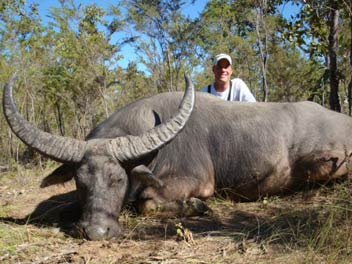 Trophy Buffalo, Northern Territory, Australia